Get in on the action!
The Lincoln Electric Rally of the Tall Pines, now one of the largest Rally Sport events in North America, celebrated its 50th running last year. The Rally of the Tall Pines has grown tremendously over the last 10 years in terms of spectators and competitors alike, both coming from across Canada and the USA. With a captive audience of close to 4000 live spectators and hundreds of thousands of television viewers there has been no better time to get in on the action than NOW.
Our corporate partnership programs are designed to add value to our sponsor's business by delivering unique, turnkey programs that create brand excitement. Rally racing in Canada and the rest of the world is literally exploding, providing sponsors with a dedicated audience ready to endorse your product or services.
We have 4 main packages for sponsorship:
Title sponsor
Presenting sponsor
Associate sponsor
Introductory sponsor
Outside the 4 main packages we can tailor a great package to suit your specific promotional needs.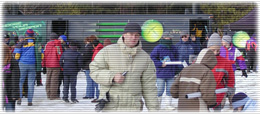 At the Rally of the Tall Pines we pride ourselves in the level of organization we offer our competitors, spectators, workers and sponsors. Let us help you make the most of your marketing budget by tailoring event sponsorship solutions that will fit your needs, create excitement and help grow your business.
To discuss everything that the Rally of the Tall Pines has to offer, contact:
Ian Wright
Sponsorship Coordinator
Primary Phone: Call this phone number in Canada with Skype: +14166065141, or 416-606-5141